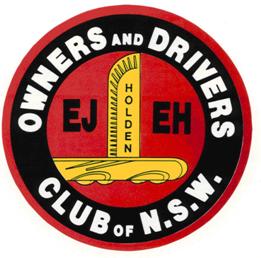 The EJ EH Holden Owners Drivers Car Club of N.S.W. (INC) was formed in 1992 specifically for EJ Holden's and EH Holden models for people who own or are interested in original (ie,not modified) classic Holdens. The club has now expanded into all classic Holden models as long as they at least 30 years old.
We welcome owners of all classic  Holdens as we are interested in encouraging the ownership, preservation and restoration of these classic vehicles. Many of our members are interested in preserving and collecting GMH History and Memorabilia.
The Club has regular social runs and events throughout the year and the club encourages the involvement of members in displays organised by classic vehicle clubs. Members are kept informed as much as possible about club runs,motoring events,shows and swap-meets through the monthly meetings or in the newsletter.
The club is affiliated with the CMC of NSW (Council of Motor Clubs inc )